Read Time:
2
minutes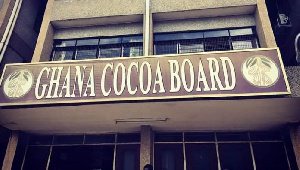 The Ranking Member of the Food, Agriculture, and Cocoa Affairs Committee of Parliament, Eric Opoku, has insisted that the Ghana Cocoa Board must account for the $1.3 billion Cocoa Syndicated loan it took in 2022.
According to him, before the new $800 million that is expected this year is approved, the COCOBOD must give proper accounts.
According to him, COCOBOD has been saddled with gross mismanagement over the years.
"What we do is that before we approve the new facility, they have to convince us as to how they used the previous one. And probably, it is one of the reasons they haven't been able to bring the facility to us, why they are. We've heard of the GH¢800 million arrangements, but it hasn't come to parliament yet.
"When it comes, they must be answerable for how they utilized the first facility they took, the GH¢1.3 billion. And if we are not convinced that that money was used in the best interest of our cocoa farmers and that matter Ghanaians, they will have difficulty getting approval for this one," he was quoted by citinewsroom.com.
Ghana's COCOBOA is currently seeking to borrow $400 million from cocoa traders to finance its operations for the 2023/2024 season as the Syndicated loan drags.
Eric Opoku opined that the arrangement is not favourable for the organization as it is already struggling to pay its debts.
"For six continuous years, COCOBOD has been making losses. How can they set aside money to finance their activities? Don't forget that the loan that we take, we don't use all the money to buy cocoa. Part of it is used to pay their salary, part of it is used to pay their administrative cost.
"And the Minister for Finance told us that they are using 53% of the total proceeds from cocoa as administrative costs and just something above 40% goes to the farmers. So, you can imagine what is happening. All mismanagement and COCOBOD is now undischarged, insolvent," he said.